Version 5 of our SPC for Excel software is now available.   This version is packed with new techniques. 
What do you want? 
Overview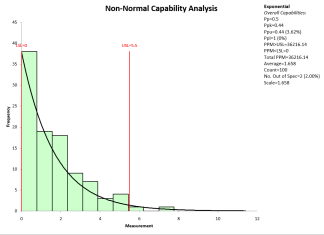 The new version of our SPC for Excel software features:
Expanded charting options to monitor your process
Non-normal process capability
Box-Cox and Johnson transformations
Distribution fitting
Multiple histograms
Group histograms
Power and sample size calculations
Evaluating the measurement process methodology (EMP) for analyzing Gage R&R results
Maintains your customized formatting when updating charts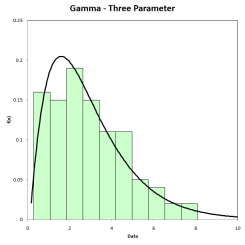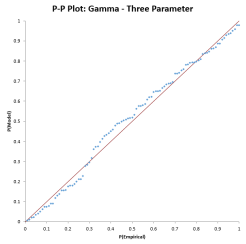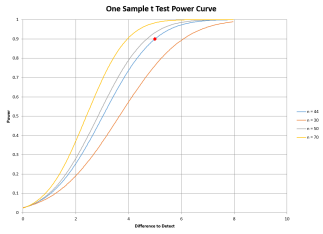 Join the Thousands of Professionals in Over 60 Countries Who Use SPC for Excel for All of Their Projects
Purchase Your Copy Download Free Trial
Details
OK.  Here are the details!
Pareto Diagrams

Variable Pareto Diagram:   determines how frequently a defect occurred for a number of different variables
Option for a "Other" or "Miscellaneous" category

Histograms

Add specifications and nominal
Add normal distribution or one of 13 other distributions (e.g., gamma distribution)
Create multiple histograms at once
Create a group histogram to compare multiple processes on one histogram

Control Charts

New charts include (26 different charts now)
T2 chart
EWMA chart
CUSUM chart
z chart
normal individuals chart based on one of 13 distribution
Median charts
More control for tests for special causes

Assign number of points for each test
Save as defaults for a given chart

Option to base estimated sigma on average subgroup range,  average subgroup standard deviation, or pooled variance
Handles different subgroup sizes
Option to place chart on current worksheet, new worksheet or new chart sheet
Option to perform Box-Cox transformation
Option to create a process capability chart to accompany control chart with estimated standard deviation based on range chart
Ability to manually enter average and standard deviation to use in the control chart

Process Capability

Option to based estimate standard deviation on average subgroup range, average subgroup standard deviation, or pooled variance
Option to calculate Cpm by adding a target value
Option to create a capability results table that contains a summary of all process capability results in the workbook  - updates each time a process capability chart is updated
Ability to change the number of classes (bar) on the histogram used in the process capability chart
Option to transform the data using Box-Cox or Johnson transformations
Option to store the results of the transformation for updating of the process capability chart
Improved method of generating multiple process capability charts
Non-normal process capability charts
Includes histogram with overlay of distribution

Measurement Systems Analysis

Improved interface
Improved output to provide clearer results
Added Dr. Wheeler's EMP (Evaluating the Measurement Process) for analyzing Gage R&R results

Rates a measurement system as a first, second, third or fourth class monitor based on the intraclass coefficient
Components of variance including % Gage R&R
Interprets the measurement process in terms of reduction of process signals, its ability to detect large shifts, and its ability to track process improvements

X

-R charts based on operator-part subgroups
Main effect charts to test for difference in operator averages
Mean range charts to test for differences in test-retest error for operators.

Data Transformation

Option to perform Box-Cox transformation or Johnson Transformation
Use optimum or rounded lambda for Box-Cox transformation
Option for histograms and P-P plots for data and transformed data

Distribution Fitting

Fits data to one of 14 distribution

Exponential, Exponential - Two Parameter, Gamma, Gamma - Three Parameter, Largest Extreme Value, Logistic, LogLogistic, LogLogistic - Three Parameter, LogNormal, LogNormal - Three Parameter, Normal, Smallest Extreme Value, Weibull, Weibull - Three Parameter

Summary page of results sorted based on the Akaike information criterion (AIC)

Location, shape, scale and threshold parameters
Likelihood value, Anderson-Darling statistic and p values
Links to each worksheet containing each distributions results

Histogram with overlay of distribution
P-P plot
Link back to summary page

Power and Sample Size Calculations

Calculates the power, sample size and difference to detect for:
One sample z test
One sample t test
Two sample t test
One proportion test
Two proportions test

Miscellaneous

Move charts to new worksheets or chart sheets and still be able to update the charts – build your own templates!
Maintains your custom formatting on charts when updating – great for presentations!
Removes non-numeric data from your data set
Improved interface for scatter diagrams
Note: Version 5 requires PC versions of Excel 2007, 2010, 2013, or 2016.  We will no longer support Excel 2003 and earlier after the release of SPC for Excel version 5.
Return to SPC for Excel Software Page