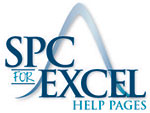 This option is only available if all the factors are fixed.  When you begin the ANOVA analysis, you will see the output options below.  The "Compare Means and Variances (Fixed Factors Only)" will be enabled.  Check that it you want to compare the means and variances.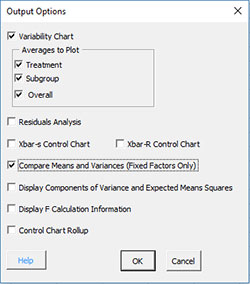 One you check that option, the following input form will appear.  Select which options you want to use for comparing the treatment means and variances.  The options are described below.  There is also the option to create charts that show the confidence intervals generated by these methods so it is easy to see which intervals contain or do not contain zero.  There is a significant difference in treatments means if the confidence interval does not contain zero.  Alpha is the confidence coefficient with a default value of 0.05.
When the analysis is running, you will get the option box below (based on the factors for this example).  Select which comparisons you want to include.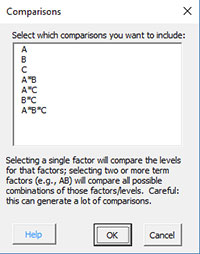 Selecting a single factor will compare the levels within that factor.  If you select a component comprised of more than one factor, the program will compare all possible combinations of those factors/levels.  BE CAREFUL: THIS CAN GENERATE A LOT OF COMPARISONS.