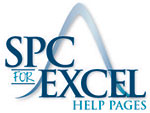 A cause and effect diagram is used to show the relationship between an effect and numerous causes.  This page shows how to create a cause and effect diagram (or fishbone diagram).
Select "Fishbone" from the "Cause and Effect" panel on the SPC for Excel ribbon.
A blank fishbone diagram is inserted into a new worksheet.  You may change the default headings that are in the worksheet.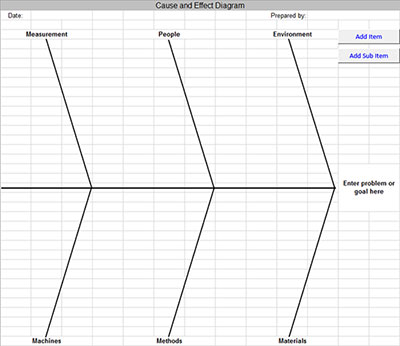 Enter the problem or goal at the head of the fishbone.
There are two buttons: Add Item and Add Sub Items
Selecting either one produces the following input screen (the sub item input will say "Enter sub item")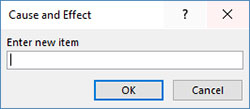 Enter the cause.  For example, you might enter "Calibration Not Done" as new item.  Select OK.  The entry appears as a text box and is selected.  Drag the entry to where you want it on the cause and effect diagram (e.g., to Measurement.)

For a sub item, select Add Sub Item and enter the cause (e.g., Not Trained).   A sub item is placed in a text box that is at a diagonal.  Drag the sub item below the item it belongs to.