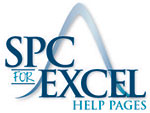 The "Histogram" panel in the SPC for Excel ribbon contains the three options for histograms.
A histogram is used to show how often a value or range of values occurred in a dataset. The histogram gives you a picture of how much variation there is in the data, the shape of that variation, and the relationship with the specifications.
There are three histogram options in the SPC for Excel program. Select the link for details on how to create each type of histogram using SPC for Excel.