SPC for Excel Software for Windows PC and Mac!
SPC for Excel Software simplifies statistical charting and analysis. The SPC software helps you identify problem areas, gain insights to your data, spot trends, solve problems and improve processes all in the familiar environment of Excel. Whether you are a seasoned Black Belt or a novice, interested in Lean Six Sigma or process improvements, this software is for you.
Process Capability analysis - to meet your customer needs
Control Charts and Histograms - to manage your processes
Gage R&R Study – to validate your measurement system
Problem Solving Tools (Pareto, histogram, scatter, and more)l - to help your team solve problems
Advanced Data Analysis Tools (DOE, ANOVA, distribution fitting, regression, hypotheses testing, and more) – to meet your advanced needs
SPC for Excel - Simple but Powerful!
 Why Should I Select SPC for Excel Over Other SPC Software?
Simple, Affordable yet Powerful!
Quick learning curve with Getting Started Guide, how-to videos, example data files and on-line help
Runs in the familiar Excel environment
Contains 100% of the statistical analysis tools that 95% of the people need
Costs a fraction of major statistical software packages
Free technical support, free builds, and no maintenance fees
Install on your desktop computer and laptop
From Our Satisfied Customers
"As a Six Sigma Black Belt I have used this great tool to support the completion of numerous projects. It is versatile as well as highly capable. This version has phenomenal enhancements that will make stronger analytical tools available to anyone with Excel. Way to go, SPC for Excel."
—Walt Wilson, Certified Six Sigma Black Belt
Start your free trial now to see why professionals world-wide have chosen SPC for Excel!
SPC for Excel Software - Easily Create Charts
1) Enter Your Data

2) Select Your Option From The SPC for Excel Ribbon

3) SPC for Excel Creates the Chart & Statistics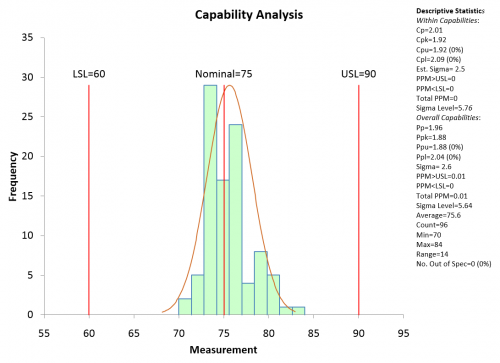 Statistical Tools Included in SPC for Excel
Pareto Charts
Histograms
Control Charts
Process Capability
Scatter Diagrams
Measurement Systems Analysis
Regression
Fishbone Diagram
Experimental Design
ANOVA
ANOM
ANOX
Normal Probability Plot
Data Transformation
Distribution Fitting
Descriptive Statistics
Samples Tests
Test for Multiple Processes
Correlation
NonParameteric Analysis
Join the Thousands of Organizations in Over 80 Countries Who Use SPC for Excel to Chart, Analyze and Improve.  Manufacturers, Businesses and Education.